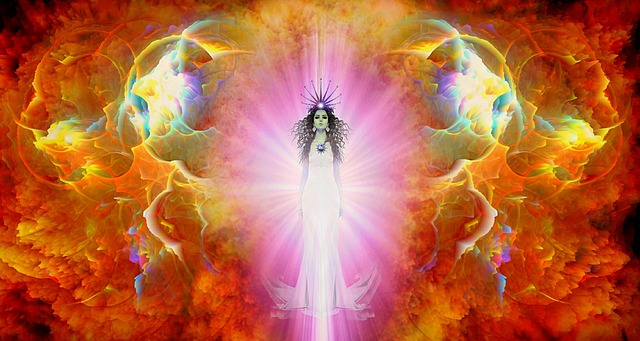 It's Christmas time! It's my favorite time of year. I LOVE the decorations, the lights, the scents associated with this time of year. I LOVE the spirit of giving and shopping for the perfect gifts for those I love. Christmas has always felt like a magical time of year to me. While the hustle and bustle of this time of year can bring out the "grumpiness" of some, it also brings out the joy and kindness in others. It is truly the season of giving and sharing with family and friends.
It is also a very meaningful time of year. For those who practice religious traditions, there are meaningful religious celebrations as well. Christians honor the birth of Christ. Jewish tradition honors the rededication of the Holy Temple with the Festival of Lights. Kwanzaa is the celebration of African American cultural heritage and traditional values. In Wiccan and Pagan traditions, Yule/Summer Solstice honors the cycle of nature and the Wheel of the Year. No matter what your views, there is no denying that this time of year is sacred.
For those of you who may not know, I am a member of Unity where we embrace a positive path for spiritual living. The bible is interpreted as a metaphysical representation of the human evolution toward spiritual awakening with Christ being the Way Shower. In Unity, we understand that we are physical expressions of Divinity. The "Christ Light" resides within each and every one of us. This is the time of year where we honor that Divine Spark within.
One of the ways to honor the Divine Within is to slow down! Let's face it – this time of year is generally fast paced. You are rushing around to get everything done in time for all the celebrations and you're not really living in the moment. Take the time to stop, breathe and take in what is. See the beauty all around you. Gaze with your Goddess eyes! Enjoy the scent of your Christmas tree. Gaze meditatively at the Menorah. Savor the flavors of your food and drink. Listen to the laughter. Bask in the beauty of the decorations. Enjoy the hugs of family and friends.
Another way to honor the Divine Within is to take the time each and every day to connect with your Inner Goddess! You may be leading a very busy life but self-care/self-love time is imperative to your well-being! Whether you spend time in morning meditation, journaling, dancing, yoga, or taking the time to soak in a tub, this is sacred self-care/self-love time. To hear your guidance, you must cultivate this connection time so that your Inner Goddess has the clear channel to speak through.
Honor your boundaries! You cannot please everyone so don't even try! Love yourself enough to say no to demands that will sap your energy. Bless and release whatever no longer serves you – toxic relationships as well as toxic beliefs. As I've shared before, "NO" is a complete sentence so release the need to offer explanation. In most cases, explanations are not needed and you're simple "No, thank you" is enough.
Connect with Nature. Yes, baby, it's cold outside! That doesn't mean that you cannot get out in nature and appreciate the beauty of this Winter Season. Go for a walk and notice the hibernating trees. They may appear dead but life is already readying to bloom. And for those of you enjoying Summer, getting outside is even more enjoyable as you take in the "aliveness" of all that is around you. Nature is healing – no matter the season so allow the energy of Mother Gaia to nurture your Inner Goddess!
Bring Ritual into your life! Sacred ceremony is beautiful and meaningful. It doesn't even need to be complicated. It can be as simple as lighting a candle while you write in your journal. You can create an altar space as a focal point when you meditate. A centerpiece on your holiday table can be placed in a ritual manner if you set it down with intention. Incorporating ritual into your life can be as simple or as complex as feels good to you. You are inviting more blessings into your life as you go about your activities with intention and ceremony.
Call to Action
My mentor's request to you is to pick at least one of the above and begin incorporating it into your daily life. Have fun with this! Notice what you notice. Honoring the Divine Within is not just a Holiday/End of Year practice but a life-long one! If this is something that is difficult for you- or you struggle with maintaining the practice, it may benefit you to find a group of like-minded people to share in the experience. Embody the Goddess may be just what you need to fully integrate the Divine Femine and her practices into your life. This Circle will be an intimate group of like-minded, committed Goddesses who are ready to embrace their core Goddess energies and the magic they possess, stand in their power and speak their truth, and love themselves unapologetically so they are able to create more pleasure and possibility in 2021. This circle begins in January. If this program intrigues you, This email address is being protected from spambots. You need JavaScript enabled to view it. and let's schedule a chat to see if this program will serve you!
Until next time...