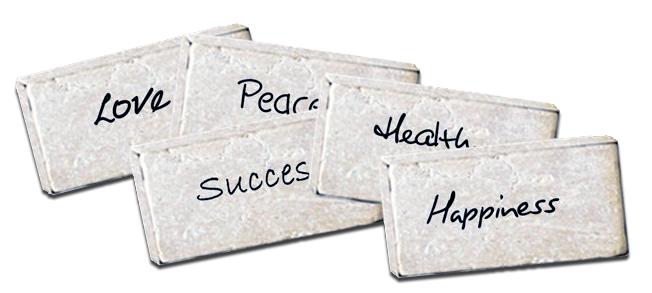 Instead of setting intentions or creating resolutions for the New Year, the trend has been to choose a word that encapsulates the energy of what you desire the year to be. Unity has beautiful rituals around this theme. It begins with the Burning Bowl where you intentionally choose what it is you are willing to release. The following week is a lovely service entitled "The White Stone".
I had never experienced this service before but have fallen in love with it since we began experiencing it three years ago. The story behind the White Stone is that during ancient times, when a person was released from prison, they were given a white stone upon which they could choose the new name they wished to be known as going forward. In Unity, we get to choose a word that represents the energy we wish to embody for the coming year.
The ritual is quite lovely. You sit in meditation to quiet and center. When you are ready, you get up to pick up your white stone. You come back to your seat, hold the stone in your hands and ask for the word. When you hear your word, you write it on the stone. Then you stay in meditation for a few minutes longer to call that energy in.
What I find very interesting with this process is that I usually have an idea of what I wish my word to be and the first two times I did this ritual, my words were precisely what I had in mind. This year, however, was a different experience.
Going into the service, I had one word clearly in mind. It was a word I had given thought to and felt it represented the energy I wished to experience in 2020. I really wanted this word! During the early part of the meditation, a different word emerged. At first, I felt some resistance but chose to say with the process. This new word also felt very good to me and was absolutely an energy that I could see myself embodying for 2020. Then, once I was holding the stone in my hands, the stone whispered yet another word to me. This was the word the stone wanted for me. Full body chills came over me, which is my physical sign that lets me know what I'm thinking is Divinely inspired. Well, of course, THAT became my word. To BE and WALK as LOVE. Now, the synchronicity of this is the fact that I am taking a Priestessing Program so to BE and WALK as LOVE is an integral part of what it means to be a Priestess.
My LOVE stone for 2020 sits upon my altar – as do my previous stones for the previous 2 years. They serve as a daily reminder of the energies I have been Divinely called to express over these last years and moving into this year.
So, my question to you is, what are you being Divinely called to express in 2020? What is the energy your Soul is asking you to embody?
Call to Action
My Mentor's request is that you perform your own version of this ritual – if you have not already done so. We have a New Moon happening on Friday, January 24th. It is the first New Moon of this New Year so energetically, the timing is perfect! Keep it simple. If you wish to have a stone representation, you can find white stones in craft stores that you can use or find a smooth stone out in Nature that you feel drawn to. Once you have your stone – if you choose to use one – you can follow these steps"
Take a moment or two to center and ground yourself

Set your intention to receive your word

Close your eyes and get into a meditative state in the way that feels best for you, ie. Using a mantra, candle gazing, listening to a guided meditation, dancing, etc.

When you feel you are open and receptive, holding the stone in your hand (if using), ask for your word.

If using the stone, when you hear a word, ask the stone if this is your word. If you hear a "Yes", you are done.

If you didn't hear "Yes", ask the stone what your word is.

Once you have your word, write it on the stone.

Express appreciation to the Divine and your stone.
You may choose to keep the stone on your altar – if you have one – or any place that is special and you can see it daily. You can even choose to carry your stone with you if that feels good for you.
As always, I would love to hear what your words are for 2020. Feel free to share on the FACEBOOK PAGE or in The Goddess Club, if you are a member. And if you are not yet a Goddess Club member, just click on THIS LINK and request to join!
Until Next Time....