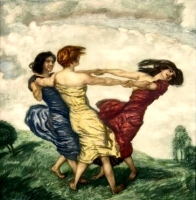 A Women's Circle is an intimate gathering where we learn ways to witness, speak and relate to others in sacred space.
The craziness of our "real" world is placed on pause as we witness what each Goddess needs and we fill our wells with the "medicine" that sacred circle provides. We sit, welcome, and accept one another as we are – a unique expression of the Divine. Each woman's perspective is valued as it enriches the whole. Sisterhood is created.
What is the importance of circle and sisterhood? If you're anything like me, you want to surround yourself with women of like-mind, women who desire to rise, women who know there is power and sacredness in establishing and maintaining community. You desire to create meaningful relationships, to raise your vibration, to feel connected to your sacredness and have a safe and sacred space in which to own and express your Godessness/Divinity/Higher Self/Christ Nature. You see, the semantics aren't important. What is important is the connection to who you truly are. You want to be inspired, uplifted, and supported as you move through life. Sisterhood and Circle provides this medicine.
Our focus for this circle will be how to BE our authentic selves as we navigate of our lives. Will you join the Circle?
Dates: December 6
Time: 6 pm – 7:30 pm
Place: Free Spirit Yoga and Wellness Center
1512 East Caracas Ave.
Hershey, PA 17033
Cost: $20, Bring a friend for $30 or Bring 2 friends for $40 (Contact Elaine at This email address is being protected from spambots. You need JavaScript enabled to view it. or 717-641-3311 to take advantage of the bring a friend options)
Event Properties
| | |
| --- | --- |
| Event Date | 12-06-2017 6:00 pm |
| Event End Date | 12-06-2017 7:30 pm |
| Registration Start Date | 11-15-2017 |
| Capacity | 20 |
| Registered | 1 |
| Available place | 19 |
| Cut off date | 12-05-2017 11:00 pm |
| Individual Price | $20.00 |
| Location | Free Spirit Yoga Studio |