Queen/Enchantress Women's Circle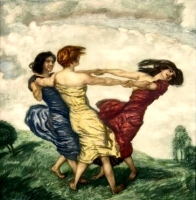 A Women's Circle is an intimate gathering where we learn ways to witness, speak and relate to others in sacred space. This Queen/Enchantress Circle is for those women who are out of their "Mother" phase but do not feel they are quite at the "Wise Woman/Crone" phase of their lives. Donna Hennes is created for bringing back the "Queen" phase of the Goddess. Tanishka refers to this phase as the "Enchantress". General age range for this phase is anywhere from 45 to 75 years young.
The craziness of our "real" world is placed on pause as we witness what each Goddess needs and we fill our wells with the "medicine" that sacred circle provides. We sit, welcome, and accept one another as we are – a unique expression of the Divine. Each woman's perspective is valued as it enriches the whole.
Our focus for this circle will be how to BE our Queen/Enchantress selves as we navigate this phase of our lives. Will you join the Circle?
Dates: September 6, October 4, November 1, and December 6
Time: 6 pm – 7:30 pm
Place: Free Spirit Yoga and Wellness Center
1512 East Caracas Ave.
Hershey, PA 17033
Cost: $20 per circle
Event Properties
| | |
| --- | --- |
| Event Date | 09-06-2017 6:00 am |
| Event End Date | 09-06-2017 7:30 am |
| Registration Start Date | 07-31-2017 12:00 pm |
| Capacity | 25 |
| Registered | 0 |
| Available place | 25 |
| Cut off date | 09-05-2017 11:00 pm |
| Individual Price | $20.00 |