The Goddess Club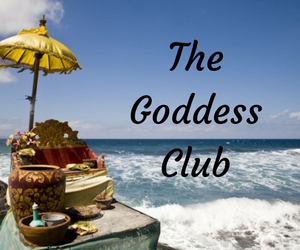 Something's happening.....
A shift is occuring.....
Women are coming together, to support and uplift one another....
Can YOU FEEL IT?  Are YOU SEEING IT?
Do you hear the call of the GODDESS/the DIVINE FEMININE?
Are you ready to step into your POWER?
Do you CRAVE connection with like-minded women who will uplift, encourage, and empower each other?
Does your HEART resonate when you hear the terms "SISTERHOOD" and "SACRED CIRCLE"?
Are you ready to embrace your SENSITIVE STRENGTHS?
If your heart is screaming "YES!", then I have something very special for you:
The Goddess Club
Welcome to THE GODDESS CLUB! An elite group of powerful Goddess Creators -who also happen to be Sensitive!
"Alone we can do so little; together we can do so much."
~ Helen Keller
You are Law of Attraction savvy. You know what it means to be a conscious, deliberate creator. You are a spiritual being and crave deeper connection to others of like mind and spirit. You are exploring ways to connect even deeper with your spiritual self and others who are on a similar path. Sacred Circle and Sisterhood are terms that are being whispered in your ear by Spirit.  You know or believe you are Sensitive and have been struggling with your sensitivity so you wish to explore this concept with others who are also Sensitive.
"Connection is why we're here. We are hardwired to connect with others, it's what gives purpose and meaning to our lives, and without it there is suffering." ~ Brené Brown
It's time to surround yourself with women who are Law of Attraction savvy, exploring their Goddess energies and embracing their Sensitive Strengths. This is the place where we will hone our skills, walk our talk, and have fun along the way! If you are interested in hanging with amazing Goddess Creators, exploring your unique Goddess Energies, leveraging your Sensitive Strengths, and sharing laughter while creating possibilities, then The Goddess Club is for you!
There are 2 ways to join this celebration:
Annual Subscription - $250 per year  

Monthly Subscription - $25 per month 
Here is what you get with your Goddess Club membership:
1 – New and Full Moon Circles every month!
Each month we will come together in Circle to leverage the energies of the New and Full moons.  These calls will be recorded so that you may listen at a later time  if you cannot make the call live.
2 –Two Call-In Days Every Month for Laser Mentoring
There will be 2 call-in days each month where you can schedule a 25 minute mentoring session with me. These sessions will be on a first come, first served basis
3 - Secret Facebook Group – The Goddess Club
Join us in our secret Facebook group for further interaction, upliftment, encouragement, and support. Our group is SECRET meaning only members will see the group and be able to read the posts.
4 - Periodic Daily Practices

I will be sharing 21 day practices for us to move through collectively in our Facebook group.  Past practices included Goddess Reflections (based on Louise Hay's book "Mirror Work") and Goddess Abundance.
5 - Goddess Study!
Each month we will dive into the energy of a specific Goddess.  You will receive an Invocation, a Meditation, and her lore.
6 - Deep Discounts on Courses/Circles/Programs offered!
As a Goddess Club member, you will be entitled to attend any Courses/Circles/Programs offered for a deeply discounted rate simply because you are a member of the Club!
MORE TO COME! - Who knows what we'll create as the group gathers momentum!
"We rise by lifting others." ~ Robert Ingersoll
I could write about all the problems a group like this one could solve but I won't because I am NOT PROBLEM FOCUSED. You already know how you feel, what you are dealing with, and you know that you are ready to feel better, to feel relief. I want to focus on the HEALING, SPIRITUAL GROWTH, SISTERHOOD, LAUGHTER, and POSSIBILITIES that can be created when women come together. So what can you expect?
Laughter

Healing

Clarity

Connection

Growth

Expansion of your mind and heart

Synchronicities

Flow

And so much more!
"The world needs you cracked open." ~ Rebecca Campbell
The Goddess Club is for you if:
You are hearing the call of the Divine Feminine seeking to rise within you
You are craving the intimate connection Sisterhood holds
You are curious to explore the use of energy management techniques in your day to day
Ritual speaks to you on a deep level
You love having a group of like-minded sisters to share and create with
You have a love of learning
You desire to uplift and be uplifted
You love to laugh and play
You seek to express and experience your unique magic
It is my sincere wish that if you are drawn to the Goddess Club, you will say "YES" to yourself and join our celebration! I so look forward to sharing this journey with you!
May your life be filled with laughter & magic!
Elaine
---
JOIN THE GODDESS CLUB:
Annual Subscription - $250 per year